Tempco customer who work in chimica/pharma/food processes, often uses our thermoregulating system, in order to control temperature on their plants.
Usually we supply them turn key plants: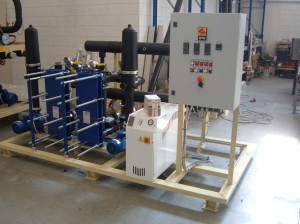 In this special plant, customer has hot and cold fluids. To use this existing utilities, Tempco project a plug and play unit, complete of:
Plate heat exchangers
Regulating valves
Recycling pump
Expansion tank
Safety systems
Control board
PID temperature control system
The thermoregulating unit goes to customer pre-tested in our workshop.
Customer need also to supply temperature controlled fluid to 2 different units. To give the easy way to go to customer, we made a collector with 2+2 inlet/outlet, complete of automatic valves.
In these last days, our technician was on site to make the last test. The TREG unit work linked to customer PLC via 4-20 mA system, to get easy set-point adjustment from remote.