I guess many of you are already trying to figure out what's the link between these two topics…
Nothing, indeed, or maybe also a lot of things: it only depends on the point of view we assume to think about it.
Yesterday I was considering my enduro mountain bike, and I found myself fond in an interesting exercise:
How much Tempco equipments are involved in production processes of its various components?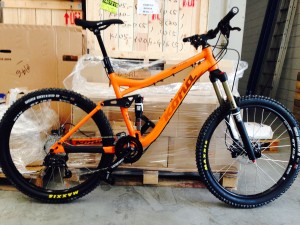 Here's a short list of them based upon our experience on thermoregulation in several industrial processes in a variety of sectors.
– Thermoregulation for rubber calendering (bike tires, seals and grips)
– Thermoregulation in die casting process (leverages for suspensions)
– Hydraulic oil cooling for hydroforming machines (aluminium frame shaping)
– Cooling bath soaking for quenching heat treatments (pinion and rack, chains and other metal parts)
– Cooling of anodising treatment tanks (fork stems surface treatment and finishing)
– Cooling and heat recovery on aluminium wire drawing plants (wire drawn aluminium wheel rims)
– Thermostatation of oil and water in forging plants (chains and leverages)
We could also continue, entering synthetic oil production, along with all the chemical processes involved, but it may be too much going in deep…
So be it for now, enough for a first exercise but quite interesting… we should also extend it to other sports, starting a sorta 'How it's thermoregulated?' feature section. What do you think about it?