Supermicro, a global leader in high performance, green computing server technology for application in data center, cloud computing, AI, 5G and edge computing, deployed a proof-of-concept project showing the advantages offered by immersion liquid cooling in dielectric fluids of electronic equipments. Supermicro collaborated with 3M, Intel, Kaori and Samsung measuring not only the higher energy efficiency of liquid cooling systems, with lower energy consumption, but also the costs savings related to the software runtime license fee of EDA software (electronic design automation) employed in the semiconductor industry.
Immersion liquid cooling, a topic we have already treated several times in the past with the use of TCOIL dimple jacket exchangers, first of all increases the sustainability in data center management, improving energy efficiency of the cooling system. Indeed, using a liquid as cooling media instead of air allows a more close contact between the particles of the fluid and the object to be cooled, increasing the thermal transfer coefficient. It is therefore possible to employ cooling fluids at cooler temperatures, also leveraging on free cooling systems and obtaining an important energy saving cutting costs related to air conditioning and chillers.
In addition, the tested liquid cooling solution also led to a reduction of overall utility costs in high performance computing tasks required by software EDA, where the licensing costs often depends on the number of cores and clock speed required (clock speed indicates the number of on-off cycles (transitioning from 1 to 0) of a transistor in a second, measured in GHz). Higher clock speeds also mean higher rates of TDP (thermal design point), which is the maximum amount of heat generated by a chip that has to dissipated to ensure correct functioning of the component.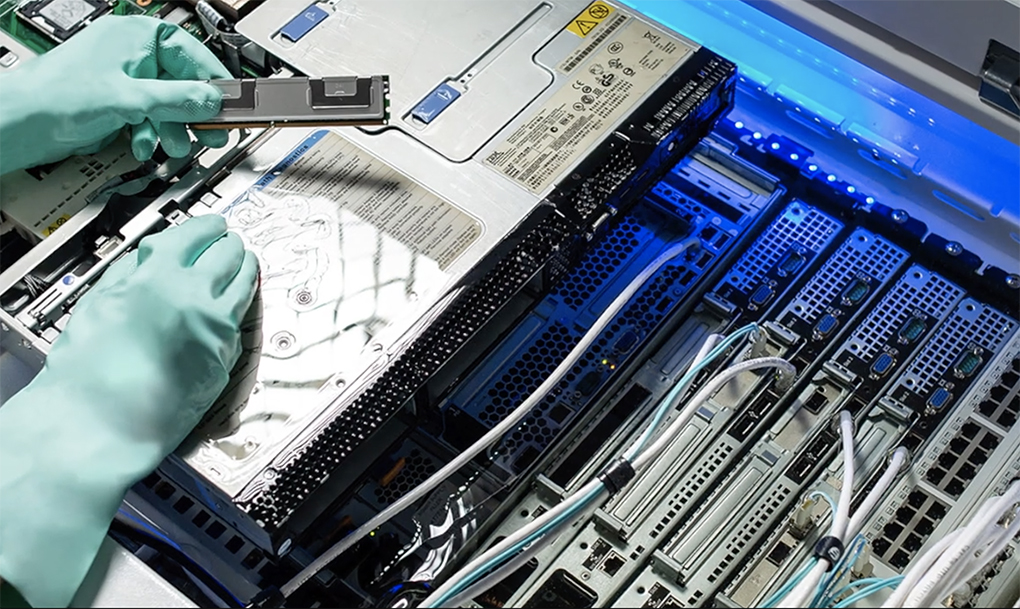 The overall software licensing cost can therefore be lowered reducing the number of cores and increasing the clock speeds, maintaining the same computing performance level. But it involves an increased amount of heat that the cooling system has to dissipate, where traditional air-cooling systems start meeting their limits. While it can easily be managed by immersion liquid cooling systems, increasing at the same time energy efficiency with lower energy consumption.
The proof-of-concept system developed by Supermicro with 3M, Intel, Kaori and Samsung uses in fact immersion liquid cooling of different kind of Intel and Samsung electronic devices in a cooling tank with plate heat exchangers filled with 3M Fluorinert Electronic Liquid FC-40, a dielectric liquid that demonstrated excellent compatibility with the electronic devices employed.
Tests showed then an important reduction of power consumption obtained with immersion liquid cooling of electronics, even with high performance CPUs and in extreme environments without air conditioning. Allowing the reduction of the number of cores with increased clock speeds, thus showing that immersion liquid cooling can be a green and high efficient solution also enabling lower utility costs, suitable for increasing power computing capacities required by data centers fostering the development of new technologies in the electronic design field, AI and analytics.
Stay updated on the latest applications by subscribing our monthly Tempco Newsletter – Solid Temperature.