Lot of industrial processes needs extreme conditions heat exchange.
In this case we are speaking about a good new: welded plate heat exchanger, fully TIG welded.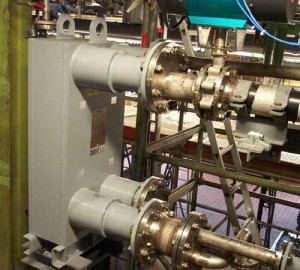 This plate heat exchangers are fully welded TIG, with same material of plate and welding, and they can work up to 300°C and 70 barg.
Connections size arrive up to DN150 (6″) with a max flow rate of 450 m3/h.
in the nozzles there are a compensation joint which can resist to temperatuer and pressure variation.
These the standard and special material suitable:
o Plates – standard material : AISI 304 (1.4301);
AISI 316 L (1.4404);
AISI 316 Ti (1.4571)
o Plates – special material : AISI 904 L (1.4539);
SMO 254 (1.4547);
Nickel Alloys;
Titanium, Titanium-PD