The production of paper requires heating and cooling processes during the various processing phases.
Paper mills normally have sizeable heating systems, often combined with cogeneration plants, that maximise the huge amount of thermal energy produced and used, recovering energy from waste production.
Some processing steps involve a precise control over the temperature, requiring specific high-precision systems because traditional steam systems cannot always meet this requirement.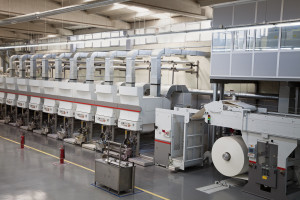 For this type of application, we manufacture special, dedicated thermoregulating units, which guarantee accurate and constant temperature control.
We have designed, manufactured and commissioned a pressurised water thermoregulating system for an important paper mill. This system has a temperature limit of 140° and features:
175KW heating power
Heaters controlled via SCR static relays
Heating power, which can be disconnected manually in 5 sections
Inverter-piloted circulation electric pump with flow rate manual/automatic control
Remote set point
Remote start-stop
The entire system has been designed with redundant safety devices to allow automatic operation, even in the presence of a low water flow rate (adjustable via inverter) to prevent damage to the heating resistors.
To prevent safety systems from intervening on the temperature, we have added temperature limiters with automatic reset to allow for continuous heat regulation, thus ensuring safety to the unit.