After summer holidays, we come back and start-up two new interesting thermoregulating plant, both installed on rubber production machinery.
The two units replace old steam heating plant and both are designed to work witj diathermic oil at 265°C max.
Customer needs to regulate the temperature of different worktops with different set-point, due to changing rubber mix from floor to floor.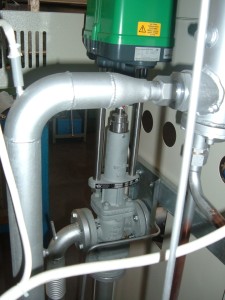 After a careful check of different solutions, we opted for a "smart" solution, which provides a single heating unit, with the possibility to modulate the power, with a series of devices for adjusting the temperature of the different plates of the press.
The result is extremely functional and efficient, put the customer in a position to start the budget to convert suits presses of establishment of this new system of thermoregulation.