From the pages of this blog we have repeatedly covered the issue relating to  thermoregulation in chemical plants.
Surely I repeat myself, but to pick up the discussion, basically during the production phases implying the use of reactors, there are different temperature steps to be respected, to obtain the chemical reactions, the decompositions or to make the enzymes work in the correct way, avoiding the degrading or destroying active principles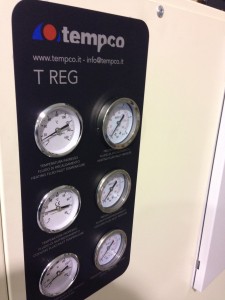 These steps provide stops, heating and cooling gradients, basically real and proper engineering of temperature and of thermal energy, that with the TREG integrated systems we are able to correctly manage.
A very interesting job has entailed the design and construction of 12 units TREG HC, that were installed in two different plants, having similar management features.
The first is a refining and concentration plant where the thermoregulation stations control the temperature level within a range varying from +10°C to +135°C. The adjusting fluid is pressurised water that transits in two different heat plate exchangers which, through servo-activated pneumatic valves, controlled by remote PLC by the customer, allow setting the different temperature levels and the heating and cooling gradients.
The realisation is completed faired, the internal piping in stainless steel, with highly efficient heat exchangers and centrifugal circulation electric pumps, with mechanical seal for high temperature.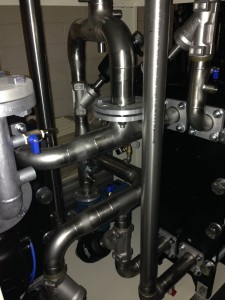 With regard to the fluid adjustment, globe pneumatic valves have been used with regulator/positioner fitted directly on the servo-control on both steam and on water, while on the process fluid side, the by-pass valves are on-off. All complete with limit switches and feedback on position.
All completed by a series of alarm and safety signals, managed by the on-off equipment.
The expansion tanks sized by our technical department, is managed and installed directly on the customer's plant, since they are significant volumes.
The second plant has required 5 thermoregulation units, for as many pharmaceutical reactors, where the process is in many ways similar, also requiring a temperature step close to -30°C, requiring little thermal energy.
We have solved this by implementing a braze-welded heat pate exchanger for cryogenic applications, supplied with non-freeze solution at -35°C.
To avoid wasting energy the moment intervention on this section is required, we have provided a particular type of operation that allows avoiding energy losses on other thermoregulation steps.
The constructive logic traces the same choices with the addition of a remote control via the web, managed by the customer's head office, for the control of energy consumption.